| | |
| --- | --- |
| ExpLAN publishes printer driver software for use on the Acorn/RISC OS computer platform. | |
Most of these drivers require !Printers 1.64 or later, which may be downloaded from the website of RISCOS Ltd. The drivers are delivered within a utility called PrintControl which automatically installs the files into the correct places within !Printers. Thereafter PrintControl is used to issue non-printing administrative commands to the printer, such as is required to generate test pages, align print heads or flush blocked ink nozzles.
See also:-

Canon Bubblejet (inkjet) printers


Kyocera laser printers

| | |
| --- | --- |
| PrintControl is a utility to deliver driver software and issue administrative, non-printing commands direct to a printer. | |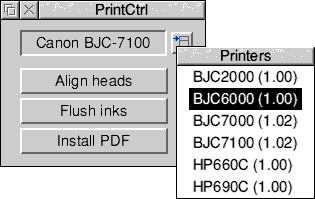 Within PrintControl there may be held a number of Descriptor files, of which a different one is required for each model of printer.
Descriptor files are currently available for the following models:
BJC-2000
BJC-3000 /S400
BJC-6000
BJC-6200 /S450 and BJC-6100
BJC-6500 /S4500
BJC-7000
BJC-7100

Hewlett Packard deskjet printers

HP-660C
HP-690C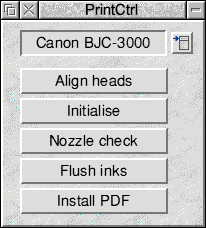 | | |
| --- | --- |
| Single-user licence, PrintControl: | £20 +VAT |
| per Descriptor: | £10 +VAT |
| Site licence, incl tech-support; PrintControl: | £40 +VAT |
| per Descriptor: | £25 +VAT |
Printers are normally sold with PrintControl and the appropriate Descriptor included within the price for single-user use, or a free Descriptor for site licence use.
Contact details for ExpLAN Computers Ltd can be found on the

ExpLAN homepage.


Back to the top of the page.